These books were prayerfully written to encourage you in your journey through inner healing and transformation. (These links will open in a new window on Amazon.com.)
When All Is Lost: A Personal Story of 9/11 Trauma and the Healing Power of Christ — Janet Lynn Eriksson — My testimony of how Jesus healed me of deep trauma in the aftermath of tragedy and restored my heart and life with peace and joy.
I Choose Life — Janet Lynn Eriksson — God loved me too much to give me an instant healing from cancer. Instead, He healed me from the inside out.
Renewing — Janet Lynn Eriksson — Words from my healing journals with God, as I walked through my first season of inner healing and learned to hear His voice.
*****
I am also excited to introduce my friend, Kerri Pulliam Johnson, who has authored these wonderful books on inner healing and transformation.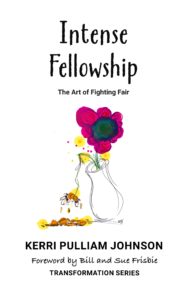 Intense Fellowship: The Art of Fighting Fair — Kerri Pulliam Johnson
Do you have to learn everything the hard way? Have you found yourself on the losing end of relationships over and over? Meet your twin. Me. I often thought I should've been a monk. (I didn't think being a nun would be as much fun.) After two relationships ended pitifully, I began to think I didn't have what it takes to navigate a healthy relationship. With that conclusion, I literally built a handicapped accessible home I could grow old in, alone, just me and lots of dogs. I built it, moved in, and then God showed me His plan.
His plan included my remarrying. And again, I found myself feeling futile and inadequate when it came to emotional disputes and navigating disagreements. I would either explode or my mind would go numb. I realized folks will spend lots of money writing out and building a business plan for their career, but nobody ever writes out a plan to navigate the most difficult parts of their marriage. My husband and I assessed pretty quickly, and with great intensity, that we would need a plan if our marriage was going to survive. For me, a plan has to be easily manageable or I'm out. This book is just that. Aptly named (other than a lot of funny stories) it consists of simple rules for fighting fair.
After all, when you play monopoly or rook, you have rules. Why not have rules for love and war—or ideally to avoid a war? In an uncomplicated fashion (like I prefer) there is a concise list of the rules in the back of the book that you can post on your frig, so you are prepped when the kerfuffle starts to amp up. All you need is a commitment—ideally prior to marriage—to adhere to the rules of "Intense Fellowship" as soon as an unwieldy conflict presents itself. After all, a simple plan is better than living alone with 39 cats.
Symphony of Heart & Mind: Helping You Express Emotions and Think under Pressure — Kerri Pulliam Johnson
Could you imagine living your life in black and white instead of full color? Could you imagine only living out of half of who you are? Many of us who are born with tender hearts decide at a young age that this world is too cruel for us. We aren't taught how to navigate our kind-heartedness, and so we just hide who we are a little at a time. We tuck our hearts away. Even worse, for some of us, we unknowingly build permanent fortresses around our heart to seemingly keep it safe from others. As we grow, we forget our heart is locked away. We find ourselves confused and frustrated when we can't express our emotions or our love for others. We are perfectly capable of thinking of how we should feel or analyzing our affections. But we become overwhelmed when we need to feel our emotions or, better yet, express them. We stammer and struggle for words to express our feelings. Anger seems to be the only emotion we can access. If that is you, you may have disconnected your heart from your mind. If so, there is an answer, and it's in the process of reconnecting your mind with your heart. And this book can help you do that.
Are You Feeling Stuck? Captivity Is a Real Place — Kerri Pulliam Johnson
Have you ever felt like you have incredible talents, gifts, and promises that you just can't seem to tap into? Do you ever feel like you are called to do greater exploits than you do? Do you realize there is a spiritual phenomenon that can actually block you and keep you from stepping into the fullness of your identity? Yes! We can think of this phenomenon as spiritual captivity. If you feel stuck in spiritual captivity because of trauma or wounding earlier in your life, this book walks you through the process of inviting Jesus to set you free.
You can learn more about Kerri and her ministry by visiting Kerri Johnson Ministries.
*****
This page contains affiliate links. If you purchase a product through one of these links, I will receive a commission (at no additional cost to you). I only ever endorse products that I have personally used and benefited from personally (or created myself). Thank you for your support!